In the same year and at a small, private auction in Los Angeles, Michael Jackson's red leather jacket from the "Thriller" music video went for $1.8 million, when the estimate was only $200,000-400,000. The buyer planned to resell the jacket in order to donate money for the needs of a particular American hospital. Whether or not this occurred is unknown.
The Medallion from Titanic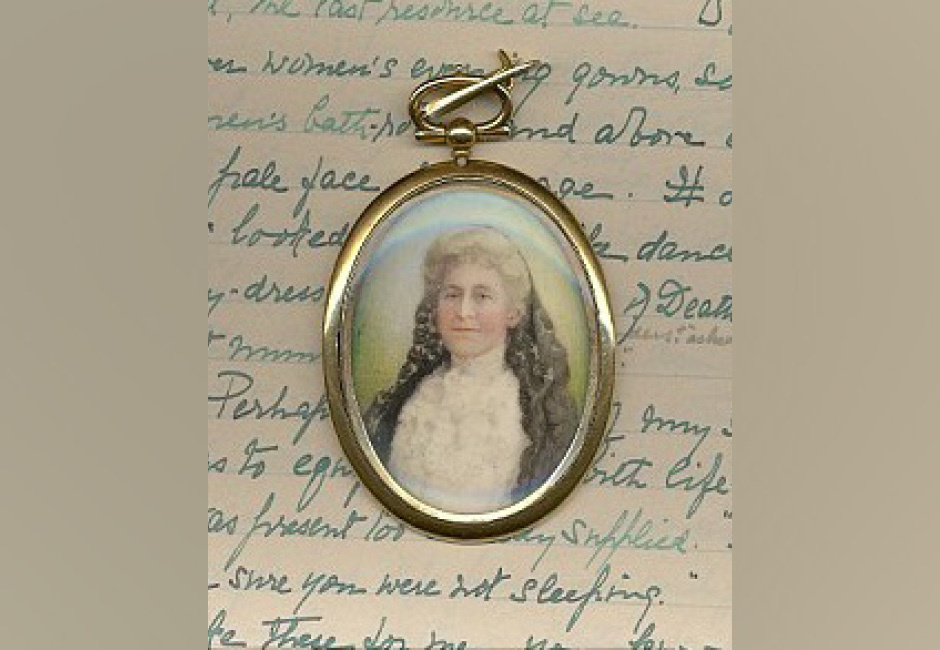 This category not only includes celebrities, but also legendary events such as the sinking of the Titanic. Auctions with items found on the ship or that belonged to surviving passengers are often held. Usually, items include menus, letters, drawings, plans and photos. Special and different items however meet and even break records. For example, the most expensive item ever sold at an auction from the Titanic is a medallion with the portrait of the mother of one of the passengers, Helen Churchill Candy. Helen handed the medallion to another passenger who survived, so the piece survived. It was bought for 58,000 pounds.
Marilyn's "Presidential" dress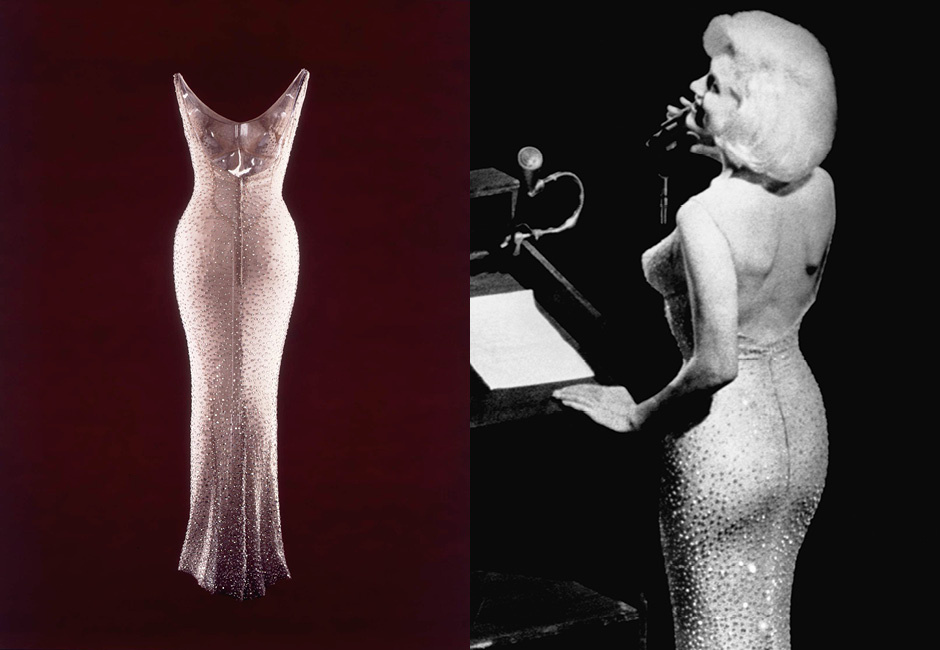 In 1999, one of Marilyn Monroe's dresses was sold for $1,267,500, with an original estimate of only $12,000. This is the dress Marilyn wore when she sang "Happy Birthday, Mr. President" on Kennedy's 45th birthday. This dress is proof that words are more precious than gold.
Napoleon's Triangles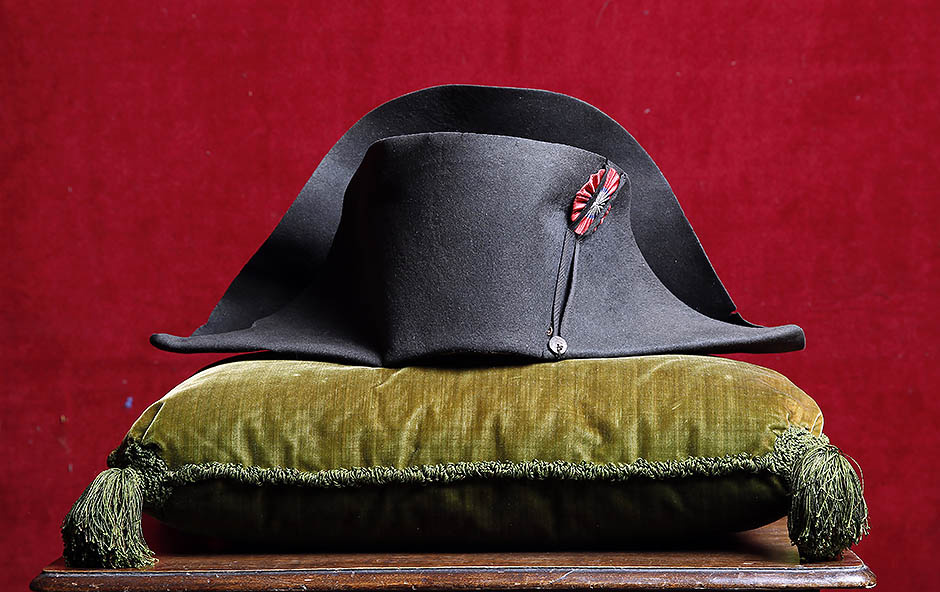 Napoleon Bonaparte's famous triangle hats are one of the most interesting auction stories. During his life, Bonaparte wore around 120 of these hats, 20 of which survive today. All of them are identical (the form and details may differ slightly) but auction house prices for these vary very much. In 2014 at the French Fontainebleau auction, the commander's triangular headpiece went for $2.4 million, while in 2015 Christie's sold one of its siblings for only $595,000 (barely overcoming the lower estimate). The difference in prices is caused by Napoleon's life events. Bonaparte wore this $2.4 million hat during the battle of Marengo, in which the French army defeated Austrian troops, completing the second Italian campaign. The latter, however, sat on his head during the battle of Preussisch-Eylau, one of the bloodiest in the history of the napoleonic wars, which ended in huge losses for the French army. Therefore, the winner's hat is more expensive than the loser's hat.
Ronald Reagan's Boots

Last fall, Christie's held a two-day auction for the personal belongings of 40th US President Ronald Reagan. This 80s icon, whose heart lied in the Wild West, was a huge collector of Texan artifacts. The top lot of this auction was the President's cowboy leather boots, made out of frog skin and an ostrich feather. With an estimate of $10,000-$20,000, the boots were sold for $200,000.
Bryan Adams' Guitar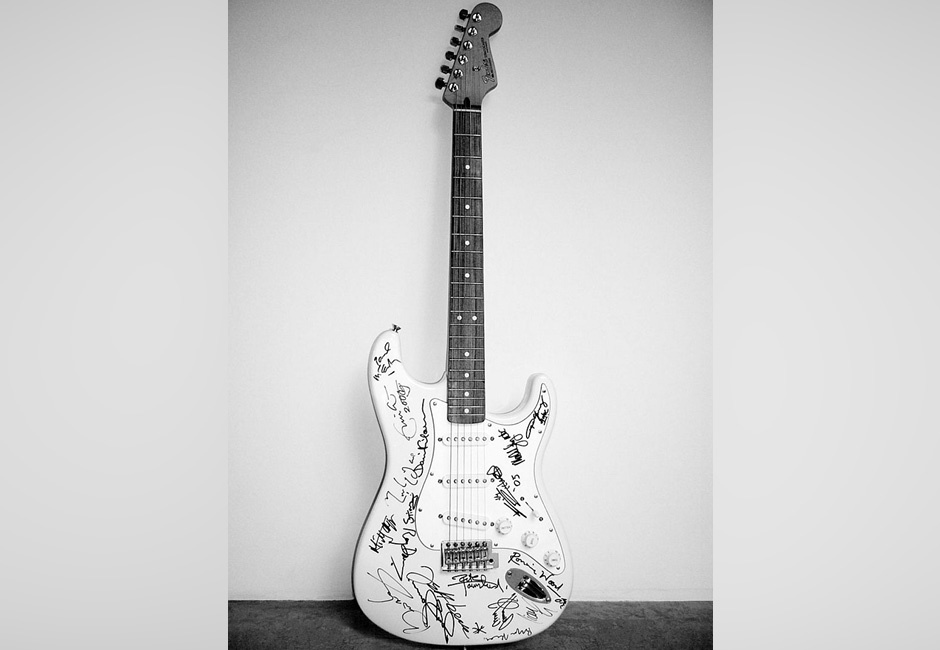 It is hard to forget the most expensive guitar ever sold at an auction. The honor belonged to Bryan Adams' Stratocaster, which was presented at a charity auction in 2005. The Reach out to Asia fund auction was organized in support of the Thai population affected by the December 2004 tsunami. In addition, the guitar is signed by legendary rock icons: Mick Jagger, Keith Richards, Eric Clapton, Jimmy Page, David Gilmour, Paul McCartney, Sting and many others. This beautiful guitar sold for $2,700,000.
Stradivarius Violin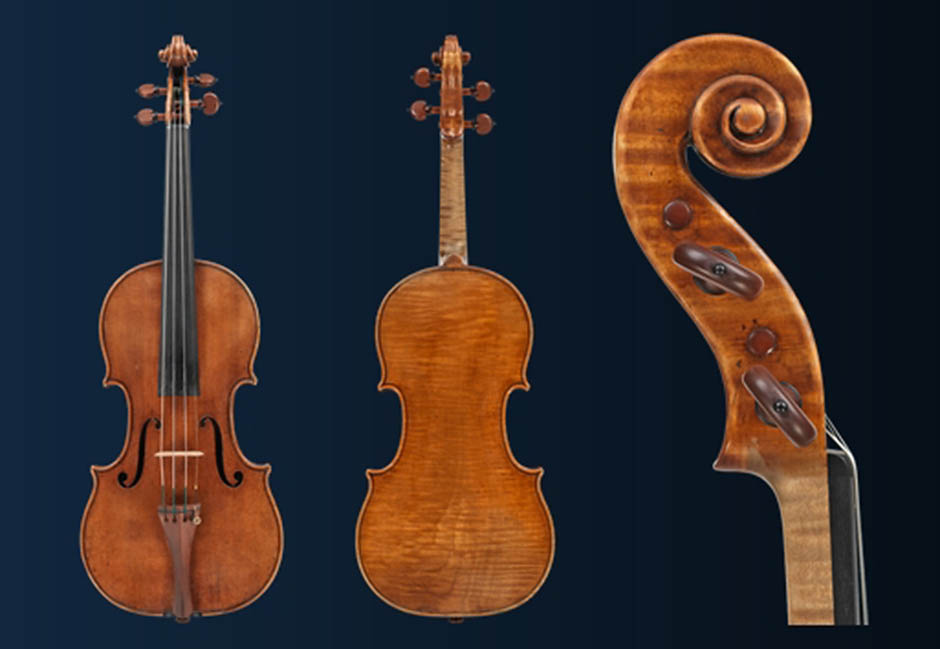 A little more about music and charity- In 2010, the Tarasio online auction sold the 1697 Molitor Stradivarius violin for $ 3,600,000. Incidentally, in 2005, the violin's future owner purchased it at an auction in Christie's. In 2011, this record was beat: Antonio Stradivari's other violin, Lady Blunt, was auctioned for nearly $16 million, which went to help the victims of a Japanese earthquake.
And again, Marilyn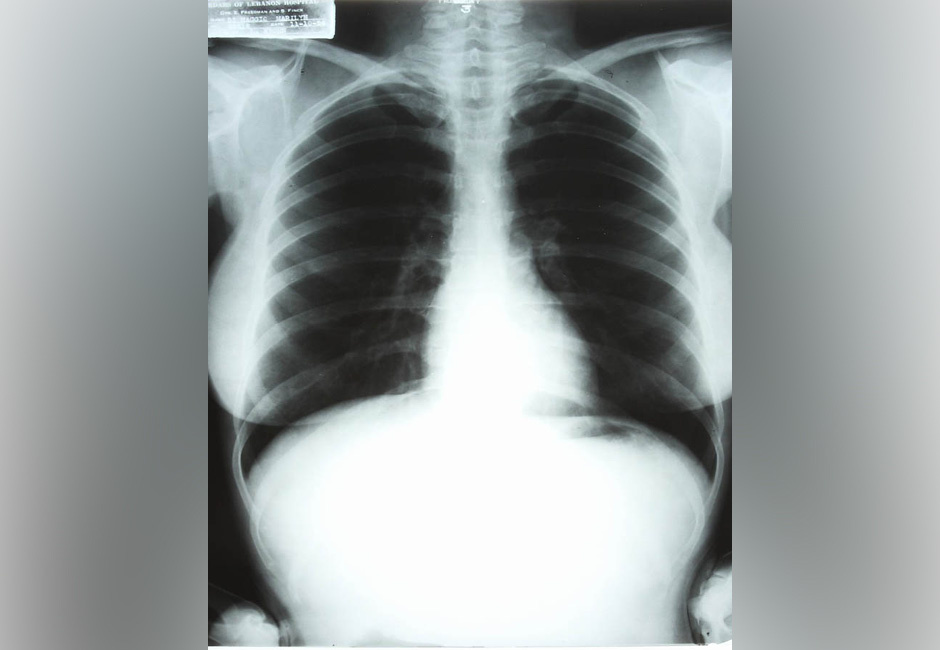 In 2010, a Julien's auction in Los Angeles sold 3 of Marilyn Monroe's chest X-ray images taken at an American clinic in 1954. These completely standard hospital artifacts went for $45,000, while its estimate was a mere $3,000.
Waiting for a new record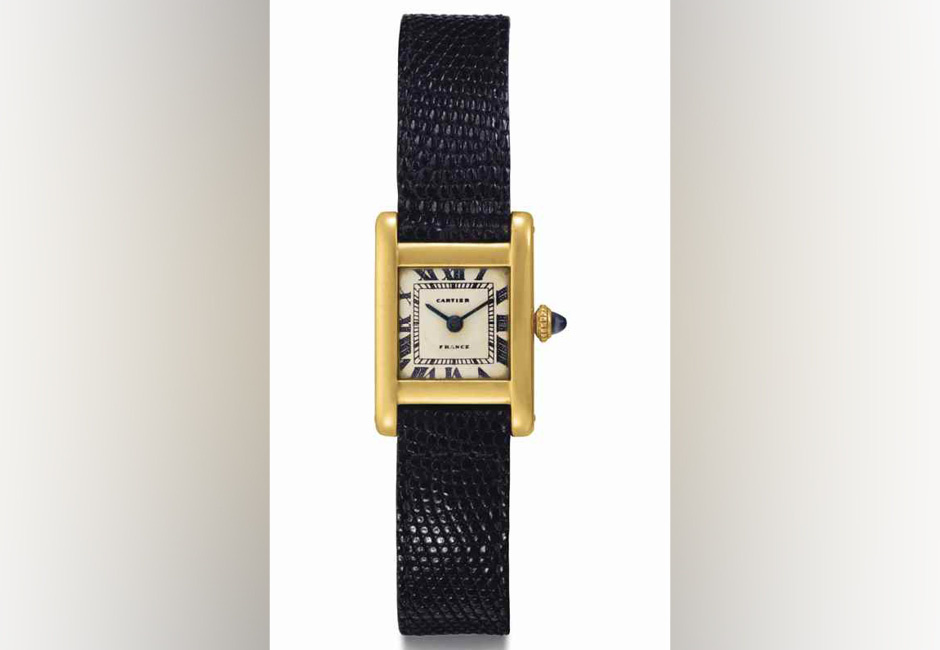 Celebrity artifacts have been and will always be sold, therefore it is worth waiting for new sensations. On June 21, Christie's will hold an auction themed "Rare watches and American Icons," in which Jacqueline Kennedy's gold "Tank" Cartier watch is included. It was presented to her by her sister's husband, Polish prince Stanislaw Radziwill, in 1963. Bt this time, Jackie was already married to Aristotle Onassis. On the back of the watch, there is an engraving that reads "Stas to Jackie, 23 Feb. 1963. 2.05am to 9.35pm." It's estimate is a range of $60,000-$12,000, but experts predict that the watch's price will multiply thoroughly.
Amazing series
Some stars have an incredible surprise factor- Lady Gaga, for instance, regularly auctions off her eccentric outfits. Fans are willing to pay any price to acquire anything related to the idol. The most expensive item sold previously owned by Gaga was a false nail that fell from her finger during a performance in Dublin- it sold for $12,000.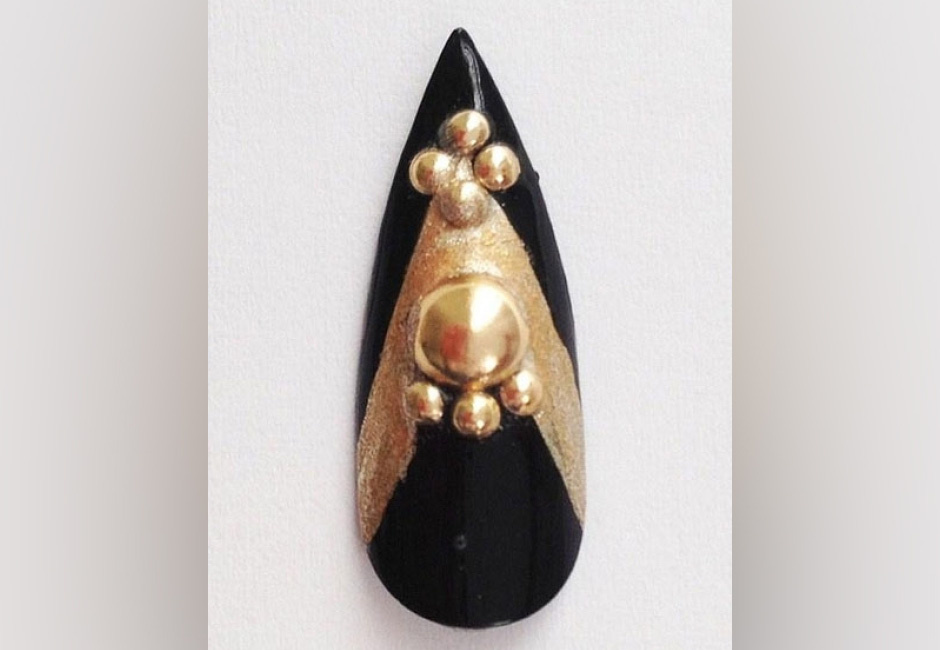 Gregory Baltser, head of the Baltzer auction agency, says, "The price of a unique item is made up of many components, including provenance (history of existence/life of the object). Objects bearing the imprint of certain period in time, such as the Titanic medallion, or objects that belonged to famous or historical figures will be in demand until these figures and events are no longer of interest to people."